Email does not have to be SPAM – and it should never be
Did you know that 90% of text messages are read within 10 minutes?
SMS marketing is one of, if not the most powerful mobile marketing tactic that exists
"Having email marketing and bulk SMS messaging in the same platform allow us to take advantage of combining the two channels efficiently. "
SMS messages have an open rate of over 95%
SMS messages boast the highest open rate for a communication channel that is accessible to marketers
SMS messages are read within 3 minutes of being received
You can reach any age demographic through SMS marketing
Whether you think it's sexy or not, SMS text message marketing is the fastest way you can connect with your customers.
SMS is Crucial to Business Communication
In order to stand out from the competition, you have to offer customers something that differentiates you
Small businesses often have only small marketing budgets. But, here is some good news, SMS marketing is cheap
It works just as well for big corporations as it does for small businesses and nonprofits
Watch the Video
The Power of Multichannel Marketing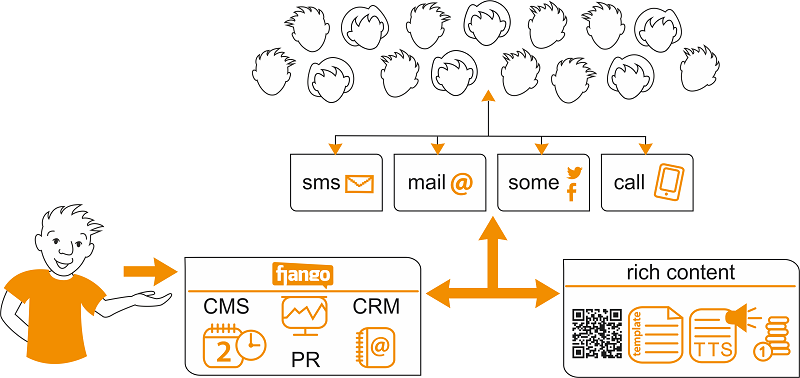 Email marketing is easy to measure
Email is an easy way to reach mobile customers.
Email does not have to be SPAM – and it should never be!
Email marketing is a vibrant and powerful way to connect with people.
When it comes to converting people into members, customers or supporters, email marketing is the way to go.
Email marketing allows you to reach a large number of consumers at a rate of nearly nothing per message.
FJANGO Director Delivers
Fjango Director is fully featured business communication platform.
With Fjango Director, you can create an email and SMS campaign when it's convenient, then schedule it to send automatically at the perfect time. YOU SAVE TIME – DIRECTOR TAKES CARE OF THE REST
Choose our easy-to-use SMS Gateway API to seamlessly integrate SMS messaging with your existing business systems and applications.
"The SMS reminders  quickly pays for itself not only with the decrease in wasted labor costs, but with the decrease in missed appointments."
"Nothing else is as good at reaching our customers where emails are. They are effective way to keep our customers informed."
No monthly fees – Free to set up