Optimize your customer experiences
Reduce overhead costs, including staffing
Decrease wait times with accurate call routing
"With Fjango IVR , customers can be served on their schedule. Lunch breaks and normal business hours notwithstanding, the Fjango is on duty 24/7."
" Our customers can learn of special offers, upcoming sales or product enhancements while using Fjango. Saving customers time is one of the best gifts we can deliver."
Make the small company appear larger
Before you say "people aren't interested in calling me," consider the stats: 65% of Fortune 500 companies say phone calls are their highest quality lead source.
Well-designed IVR (Interactive Voice Response) can often provide the better quality service than a well-trained call center representative. The perception of quality is all about personalized service.
Reduce the human-cost
Fjango IVR offers a cost effective and money saving way of handling your customer communications 24/7 and does not need vacations. Giving customers self-service options is key to empowering them and winning their long-term loyalty.
Watch the Video
Automation is the rule for delivering richer customer experiences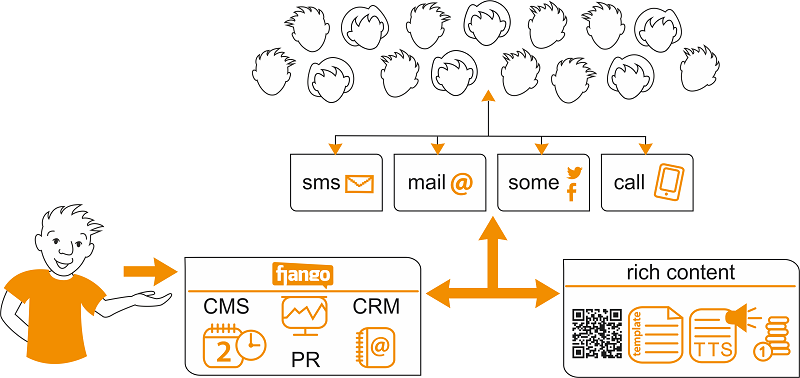 Fjango Cloud-Based IVR Helps You Boost Business Agility
The days of needing a receptionist are ending. Efficient Call Routing – Time based and team based call routing on the caller's input.
Ideally, every call is answered in person but all missed calls are automatically responded to with our intelligent SMS automation designed for instant caller engagement.
Automate your basic and generic customer queries, by an IVR many customer queries can be resolved without interacting with the customer support representative.
We provide easy to use text-to-speech (TTS)  conversion software to generate voice messages.
You can customize your voice menus from any browser, you just need an internet connection
"Now we can be available at all times. We don't lose any of our inbound caller leads. "
"Consumers don't leave voicemails, if we don't answer they instantly call our competitor."