Would you like to AUTOMATE your business processes?
Are you looking for a solution to SAVE human resources?
With Fjango, you generate MORE RESULTS with less human work.
"Powerful tool for sales and marketing. It can handle multiple tasks and automates our physical work"
Warm customer relationships don't just happen by accident
They are built on a superior communication by providing customers with the information they want to get, when they want to get it and even before they know they want it.
Proactive customer service, and targeted outbound and inpound notifications are cost effective way to power your business.
Providing personalized interactions using Fjango will increase customer satisfaction and brand experience.
From sales professionals to sales professionals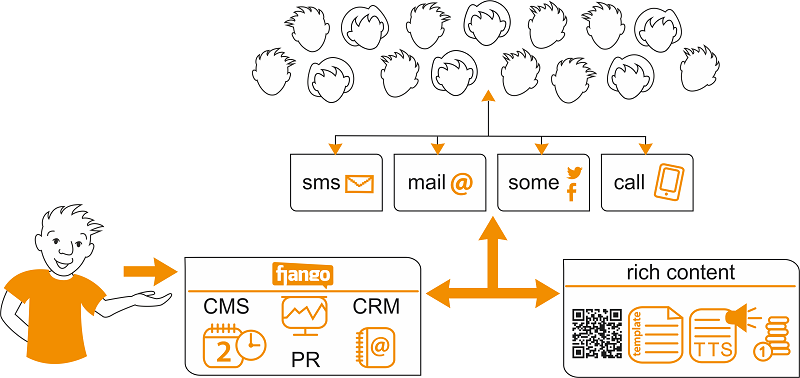 Key features
Manage and Automate your Hosted Cloud Telephone Switch
Create and Activate automatic Robocalls and powerful IVR- (Interactive Voice) services
Schedule & Send SMS /text messages and email beautiful newsletters
Manage your Contacts and Groups
Set up automatic Customer Reminders and Alerts
Create secure and trackable eCoupons and eGiftCards
Integrate with powerful SMS-gateway and Interactive Voice Services
Build powerful applications in the cloud with Fjango API
We integrated Fjango messaging gateway with the customer service of our webshop.  We reduced 40% of our not delivered shipments.
We tested Fjango in real sales competition. The winner used Fjango and he sold 20% more than the rest three altogether. Now we all use it.
No monthly fees – Start using Fjango now